Created by a Roswell, GA, mother and her daughters, the school-based program helps children feel safe and secure.
In today's online world, bullied children don't get a break. An onslaught of demeaning comments can continue around the clock via a multitude of social media platforms.
A Roswell, GA, charity called Be THE Voice aims to help students feel safe and secure from bullying by encouraging peers to speak out against it.
The peer-led program, implemented as a service project by any school club, commands schoolwide attention with videos, networking activities, schoolwide challenges, events, and banners that leave a lasting impression on everyone involved.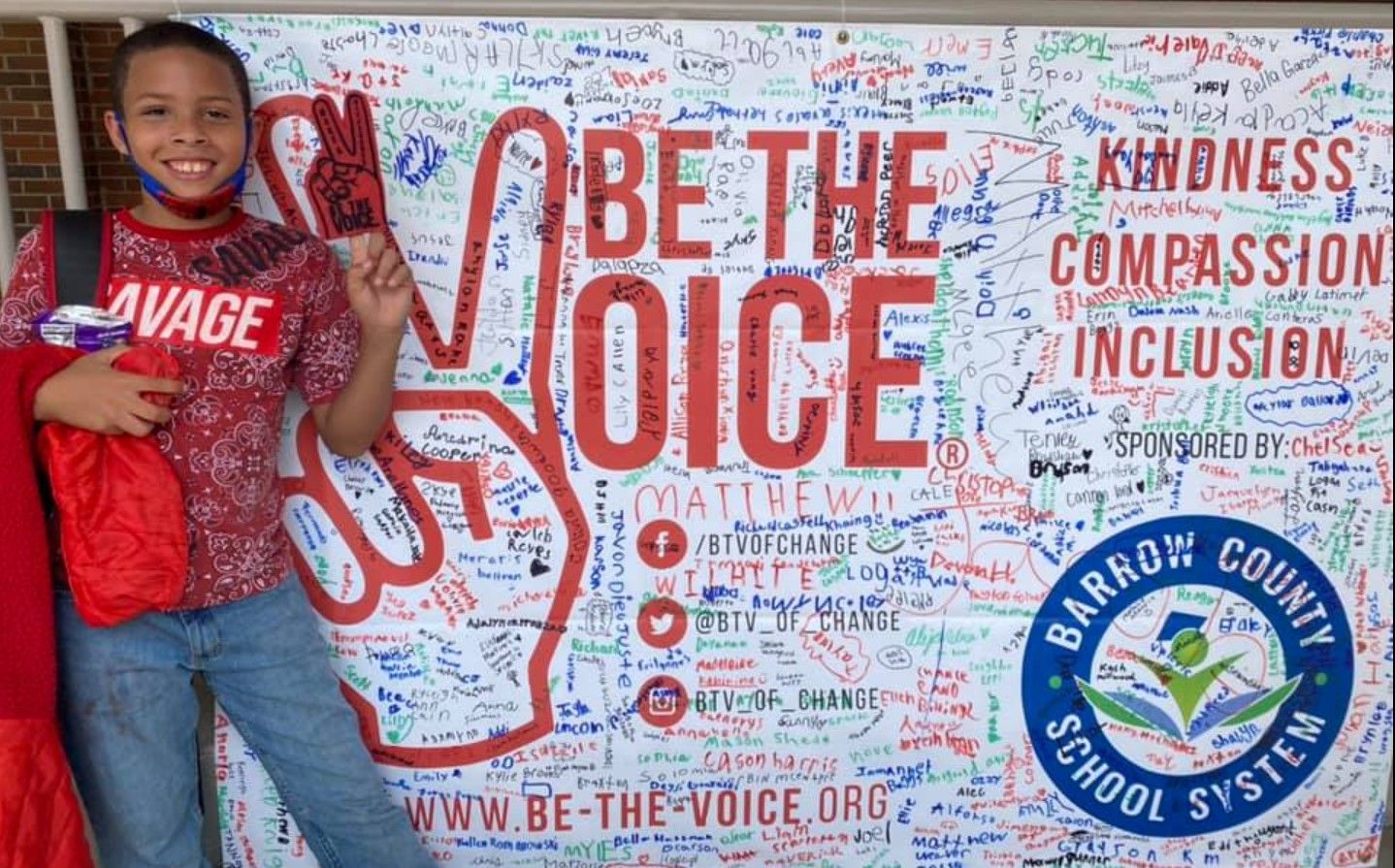 "The Be THE Voice footprint is huge," says co-founder Debbie Cwalina. "By the end of the program, students have learned how to change. They've learned how to respond to difficult situations and to feel, think, and treat others with compassion."
Debbie's inspiration for Be THE Voice came from her own childhood. Her brother didn't fit in and was often excluded. "So I've always had a soft spot for 'that' kid."
She also read in 2015 that there was an increase in suicide among children. "Children 8, 9, 10 years old were taking their lives because of cyberbullying," she says. "On social media, whoever is under attack, it's 24/7. Social media follows you wherever you go."
When she joined the Roswell Rotary Club that same year, she met a like-minded Rotarian and with the financial backing of the club they created and launched Be THE Voice in four area schools.

The approach was simple — provide a weekly video series that illustrated what a student bystander could do or say when faced with uncomfortable situations.
"In so many instances, all it takes is one kind word or act of inclusion to make a difference in someone's life," Debbie says.
Debbie says she knew they were on to something when survey feedback from one of the high schools reflected a 56% reduction in the answer "yes" to the question "I am a victim of bullying," compared to pre-program survey data.
--------------------------------------------
About Cingo: The name Cingo means to surround and secure, conveying the company's commitment to home protection. The company has been protecting families in the Southeast since 1974. It provides home protection services throughout Georgia and South Carolina, including Atlanta, Augusta, Charleston, Douglas, Dublin, Milledgeville, Savannah, Vidalia, Waycross and all points in between. Cingo was named a Best Place to Work in Georgia by Georgia Trend Magazine and listed as a National Best & Brightest Company to Work For. Learn more at www.cingohome.com.