How to Choose a Pest Control Company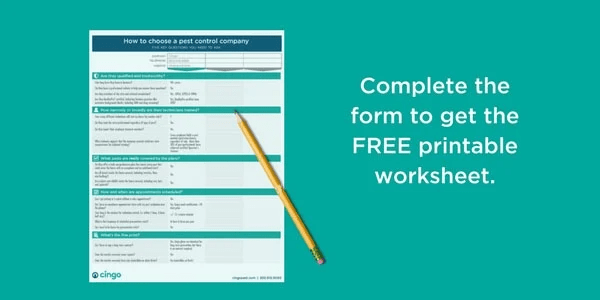 There are more than 5,000 pest control companies in the southeast, ranging from one guy and a truck to companies with hundreds of technicians. If you are looking to hire a pest professional, these questions can help you determine which company may be the best fit for you. We've even provided a printable worksheet to help you compare companies and plans.


1. Are they qualified & trustworthy?
All PCOs (Pest Control Operators) are regulated by the same agencies and are required to meet certain standards. Beyond that, training is really up to each individual company. If you know a company or representative personally, that certainly helps you answer this question. But if not, a few internet searches can reveal a great deal. How long have they been in business? Do they have a professional website? Are they members of the state associations? What can you tell about their hiring practices? Do they perform extensive background checks, including DMV and drug screening?
Cingo has been in the pest control business for more than 40 years and holds active memberships, including several leadership positions, in GPCA, SCPCA and NPMA. Named a Best Place to Work in Georgia in 2012 and a Best & Brightest company in the nation in 2017, Cingo attracts and retains great people. In a benchmarking study of 75 pest industry leaders, Cingo's retention rate was in the best practice range, a five-year average of nearly 90%. Cingo is QualityPro® certified and has maintained this designation since 2007, indicating the company has met the highest standards of excellence for professional pest management companies.


2. How Narrowly or broadly are their technicians trained?
Some companies have technicians trained only for termites or mosquitoes or household insects while others have technicians who are trained across multiple specialties.

At Cingo, we've tried it both ways, but ultimately found that investing in training and lots of continuing education for all our pest professionals provided the best customer experience. Every pest pro is equipped to handle every single pest. That means you'll always have a familiar face and won't have to juggle multiple appointments to deal with different pests. If there is something special needed (i.e. extension truck ladders for a 3rd story hornet's nest) your familiar face will engage a team member with the necessary equipment and manage any arrangements.
In addition, Cingo requires that all team members achieve a pest control registration license. This applies not just to pest technicians, but also everyone with the company— from the person answering customer phone calls to the department head of accounting. Training for Cingo pest professionals far exceeds the continuing education minimums set by the state. In fact, more than 30% of Cingo's pest professionals have obtained their Certified Operator's license, indicating they meet the standards for ownership as regulated by the state's enforcement agency.


3. What pests are really covered?
First, it's important to understand what you are looking for. Do you have a specific pest problem? Or are you looking for preventive protection? Either way, you'll want to understand the pricing structure, determine the warranty periods and clarify any obligations or exclusions the company may impose.

At Cingo, we offer comprehensive plans as well as individual pest control services. All pricing is available on the website. Individual services are priced based on the type of pest, and comprehensive protection plan pricing is based on the size of the home. It's really pretty simple, and we don't require a visit with a salesperson. Some companies will insist you meet on-site before providing a quote. We don't charge based on what you can afford or what you are willing to pay, and we're not looking to up sell you.

Recurring pest control plans can be tricky. Many companies use the term "household pests" but are a little vague about what pests are covered. Often they will include pests like spiders, roaches and ants, but have exclusions or charge extra for certain pests. Some companies will sell you "bundles" of services with the promise that you'll save money. A few specific questions may help clarify what's really covered by the plans and at what additional costs:

Are termites and a termite warranty included?
What happens if I get bed bugs?

If a squirrel gets in the attic, what happens? What about a raccoon in the garage?

If my dog brings fleas into the house, is that covered?

Cingo provides comprehensive plans that include every single pest. If it's a pest, and it's in your home, it's covered at no additional charge. If you get bed bugs, they are covered. Termites, yep. Even fleas or squirrels. Every. Single. Pest. No kidding.


4. How and when are appointments scheduled?
Customers who need individual pest control services usually schedule a convenient time directly with our care center team. This can be done by phone, or customers can indicate which days & times are best on our website, and the care team will follow-up by email.

When it comes to scheduling appointments for pest protection plans with recurring visits, we've tried many approaches over the past 40 years. Some companies have the technicians set their schedules by phone, but we've found that is messy and tends to lead to annoying games of phone tag. Other companies require that customers initiate recurring appointments, but we've found that tends to push appointments out beyond the efficacy of products used.

Our goal is to make it as simple on customers as possible while maintaining the optimal frequency to keep your home free of pests.
We've found that quarterly pest control spaces visits too far apart to be effective. All Cingo plans include a minimum of 6 preventative visits per year. In addition, we send an email notification approximately 10 days prior to each preventative visit and include a photo of the pest professional, a reminder that we send a familiar face to your home.


5. What's the fine print?
At Cingo, we try not to have any fine print. Plans are designed for long-term pest prevention, but there is no long-term obligation. The Cingo Agreement is available for review on our website. Individual pest control services have specific warranty periods, generally 30 days.

All Cingo plans provide a lifetime termite warranty and include the Sentricon system, which both eliminates and prevents termites. Cingo's termite success rate is 99.8%. Plans also include a damage repair warranty with no deductible and no maximum coverage limits.

Download the worksheet. It will make your research easier and help find the pest control company that is just right for you.